Siren Servers | Sonica Festival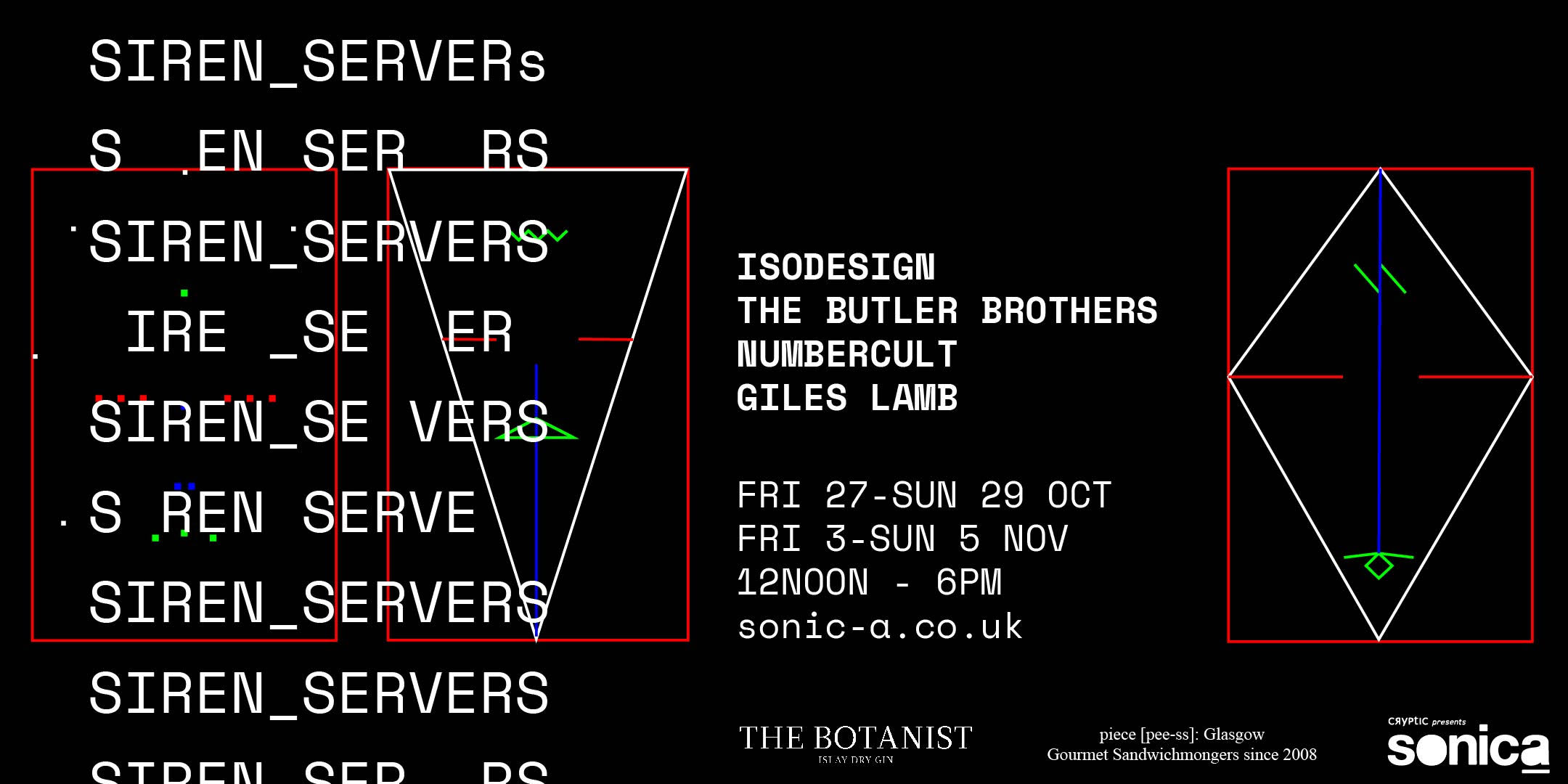 EXHIBITION: SIREN SERVERS
27 – 30 October | 3 – 5 November | 12 noon – 6pm
isodesign studio, Glasgow
"Theres's no plan to be evil. A siren server seduces you"
Jason Lanier
Siren Servers is a new commission for Sonica that brings together 4 leading Scottish sound and digital media creatives isodesign, Butler Bros, Numbercult and Giles Lamb to create a subterranean VR installation at the heart of Glasgow's Merchant City. Exploring real time graphics, sensing and 3D audio this is a journey through a series of volumetric tableaux, with reactive motionography and sound.
Sponsored by The Botanist Gin and Piece
---
TALK: VR – IN THE REALM OF THE SENSORS
1 November | 1pm (60 minutes)
CCA, Glasgow
As part of Sonica series of talks and discussions please join the artists and collaborators to discuss the themes and ideas around the exhibition and the opportunities in using VR as a creative medium.
Featuring Damien Smith (isodesign), John Butler (Butler Brothers), Craig Ritchie Allan (Numbercult), Giles Lamb (composer) and Dr Jessica Argo (Glasgow School of Art School of Simulation and Visualisation).
EXHIBITION INFORMATION

Blending the hyperreal with the uncanny, Siren Servers is a series of digital experiences that extends the imagery of The Sirens; mythical creatures, who lured sailors with their enchanting music and voices to shipwreck on the rocky coast of their island.
Using immersive 3D audio and VR, three digital visions, created in collaboration with composer Giles Lamb, are presented as a series of installations that sit in the niche between virtual art and digital theatre, a unique interpretation of the possibilities of VR.
The works generate a sensory web that replicates the ephemeral pull of the ever-present Siren Servers; unreality is superimposed upon physical spaces as the participants explore 3D spaces that manipulate sound and vision.
"Siren Servers" is an allusion to mythological sonic power and contemporary technocratic control. First coined by VR pioneer Jason Lanier in his 2013 book 'Who Owns the Future' Lanier questions the contemporary power and imbalance of wealth of today's 'siren servers', the massive data centres and computing power owned by today's digital giants that pull consumers towards their embrace by trading services for our personal data.
The four artists have worked together on individual projects over the last 10 years and have constantly investigated the boundaries between sound and music composition and its application to CGI and motion graphics; via screen, performance and installation. This new work explores the potential of Virtual Reality to create realtime digital environments and experiences now afforded by the developments in games engine software and powerful graphics cards.
---
SIREN SERVERS: THE MUSIC

Please sign up for email updates and receive a free download of the exclusive EP of Music from the exhibition.
Signup form: bit.ly/sirenservers
---
isodesign
"7 Sirens" is a site specific VR work that explores the representation of space, digital presence and sound using ambisonic recordings and CGI modelling. We explore a modern mythology where sound triggers cause the physical to melt away to a landscape of data.
isodesign extend their studio practices of pre-visualisation and high end production of immersive installations to create a simulacra of the basement of Virginia Street and define a digital space to which the Sirens can be summonsed.
The Butler Brothers
'On Demand' is a reactive Volumetric Tableau that puts the participant in the centre of a magic 'server circle', a networked labour hub that "Leverages the Living".
The servers sing when gazed upon, in turn hypnotising the visitor, as a vast 'taskswarm' of gig economy candidates builds up, awaiting utilisation. Motion captured, reactive figures accusingly surround the visitor, which, when approached, speak of their fate, held forever within financialisation's forcefield.
The work reflects on Human Utility in an age of Artificial Indifference. As Automation, AI, and robotics takes care of all meaningful tasks, humans will only have to work harder, in a new era of punitive, symbolic labour.
Numbercult
'Siren voices seduce the listener while a visual ballet unfolds; each musical motif represented as an abstract graphical form, each moving like a performer around a virtual stage.'
Craig Ritchie Allan creates an environment of fractured, evolving architectural forms using visual programming to creative a generative composition – not only is each performance original but the observer's orientation provides a different mix of the visual and acoustic elements.
Giles Lamb
"As a soundtrack composer, much like a film maker, I think linearly with a beginning, middle and end. Creating an emotional narrative along a timeline. The question is, in the VR world, is the soundtrack simply a more spatialised version of stereo or surround sound (like 3D vs 2D movies) or does it genuinely provide a new framework for audio visual creative expression? This project has allowed me as a composer to collaborate in a number of different ways within this new medium which has thrown up some interesting challenges. Although VR has primarily evolved from game development, it is pretty clear its application goes way beyond games. The recognition of VR as an art form is slowly taking hold."